In this post I have tested creating a persistent & bootable Ubuntu 16.04 USB drive with Lili (Linux Live USB Creator) on Windows.
The Ubuntu 16.04.2 LTS desktop image was used (ubuntu-16.04.2-desktop-amd64.iso) — and LiLi gave the following warning in step 1:
"This Linux is not in the compatibility list. However LinuxLive USB Creator will try to use same install parameters as for: "Ubuntu 15.04 "Vivid Vervet" (Unity) (64-bit)."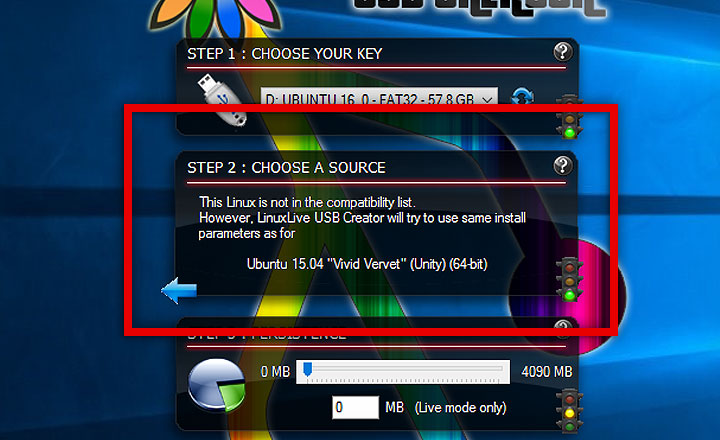 I went ahead with it anyway and boot halted with this error:
SYSLINUX 6.03 EDD 2014-20-06
No DEFAULT or UI configuration directive found!
boot:
Solution
The solution was to use Universal USB Installer alternative instead. Drive creation was very simple and worked great.
Settings used:
Distribution: Ubuntu
ISO file: ubuntu-16.04.2-desktop-amd64.iso
Drive letter: XX FAT32 FDD
Persistent file size: 4085MB
When booting to Ubuntu; simply select the "Try Ubuntu without installing" option; despite rebooting the drive all changes are kept in the persistent file.
Tip: Enable "Community maintained free and open source software (universe)" in Software & Updates to get access to all packages on live image.
Did this solution work for you?
Comments welcome.
Dave Walls