I won't waste your time. In this quick guide I've explained the best way to get a free premium version trial of Grammarly in 2023 — this method always works.
Note; some other methods no longer work after too much abuse.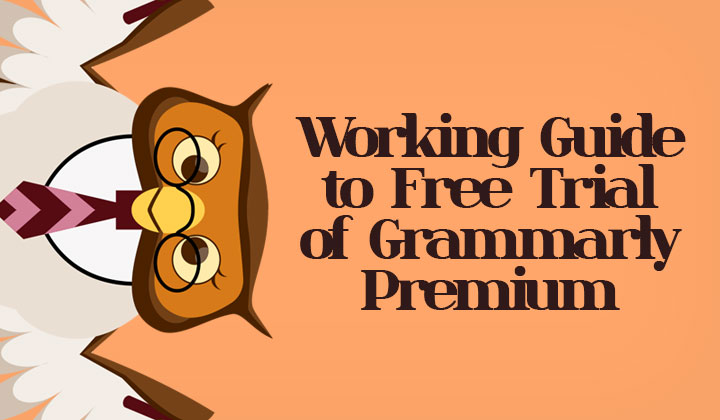 Must read before activating free trial;
There are so called "referral links" or "invite links" claiming that you can get a free week of the premium version after clicking on them — well not too fast.
These links have been abused so much that now they can only be used 5 times. So it's very difficult to find one that works… you'll clearly see a big yellow "claim your free week" pop-up after clicking on such link if the invite is valid!
With your own free account, you can refer "friends" with your own link and get up to 5 free weeks of premium as a reward. But only after your account is 1 week old!
Below I will explain the steps to get a one week free trial IMMEDIATELY for new accounts, and then you can get your extra referral rewards afterwards.
Step-by-step instructions for free premium version;
Follow each step to successfully obtain your trial. The maximum free use you can get is 6 weeks in total. There is no such thing as lifetime free Grammarly premium!
Step 1. If you have a previous account with Grammarly. Make sure you clear the cookies of your web browser first. This only works for new accounts.
Step 2. Open up this link to create the free account.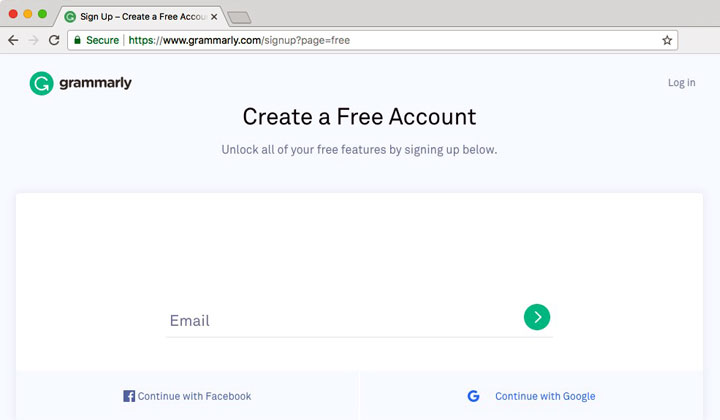 Step 3. Enter details for your new account & click on "sign up" link.
Required details: Email, Password & Name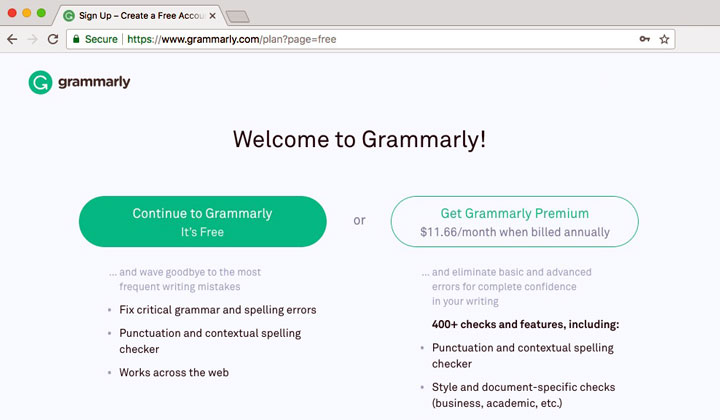 Step 4. Click on the "Get Grammarly Premium" link.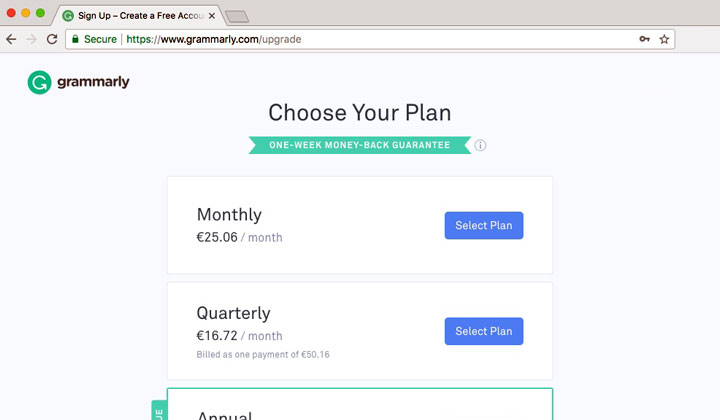 Step 5. Choose the "Monthly Premium" plan, or other as desired.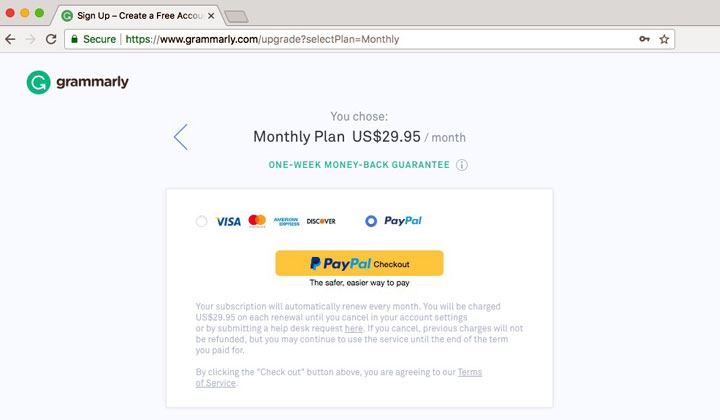 Step 6. Enter payment method. I recommend PayPal (possible without credit card).
Please note; You will get all your money back — Grammarly has a one week money-back guarantee and they will do a full refund in an instant.
Quote: If you're a first-time buyer, you can get a full refund within 7 days of purchase. To request a refund, just click the Submit a request button below. We will honor your request, no questions asked. (read full terms here).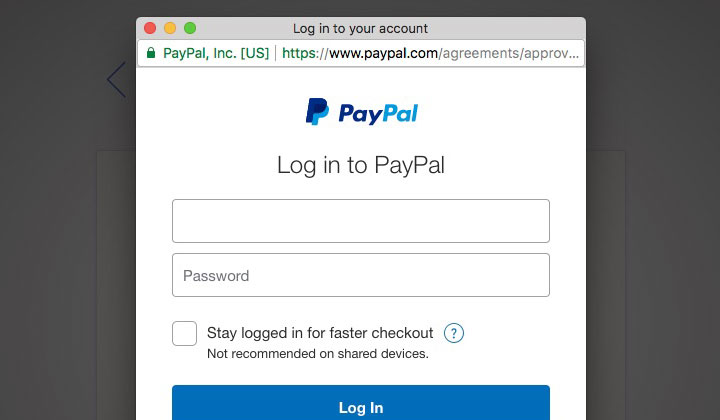 Step 6. Go through the PayPal payment — or optionally by credit card.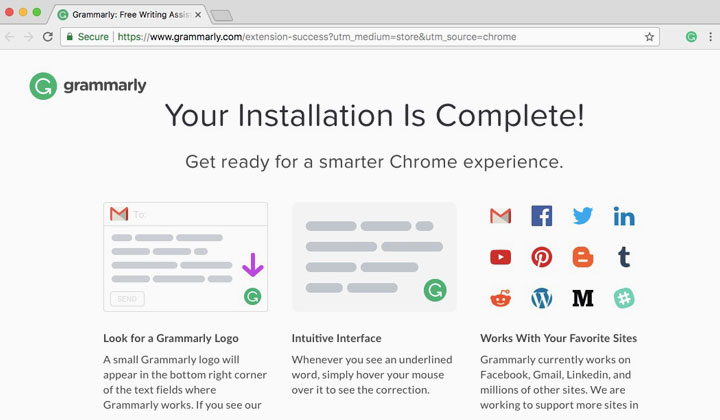 Step 7. Enjoy your first week of Grammarly Premium for free.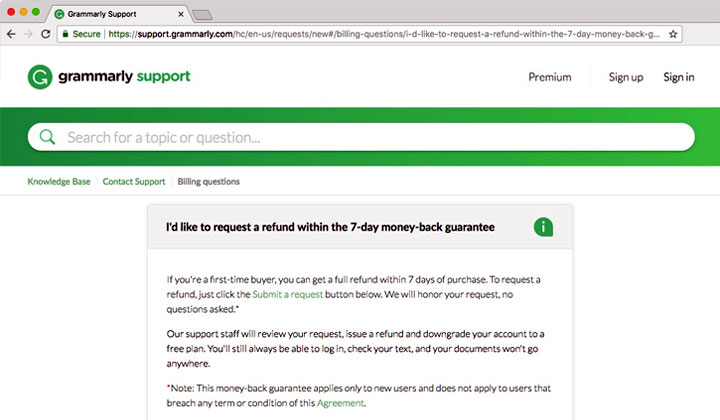 Step 8. Before your week ends, contact Grammarly Support & ask for refund.
If you choose not to continue with your premium free trial, no questions will be asked and all funds are returned to either your credit card or PayPal account.
Quote: Grammarly support staff will review the request, issue a refund and downgrade the account to a free plan. Log in will always work, you can check your text, and the documents will not go anywhere.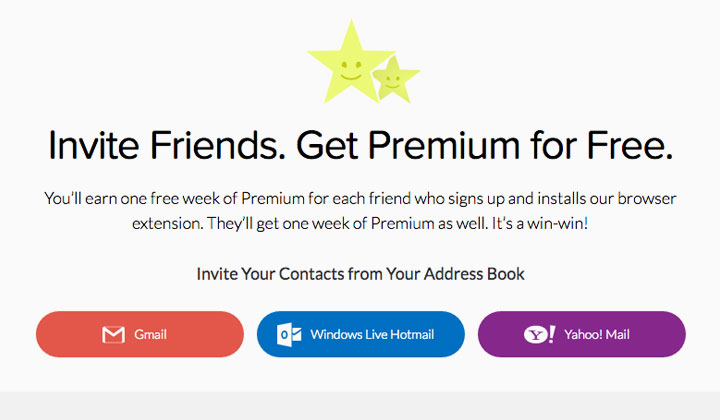 Step 9. Now that your account is reverted to a basic, one week old, free account, you can finally access the Grammarly referral program with your invite link.
To find your "Get Premium for Free" page — navigate to the Grammarly extension, or add-on for your web browser and click on the "Invite Friends" link.
You will have your own personal invite link and anyone who signs up a new free account using that link will gain a week's free trial, both the inviter and the invitee.
And that's pretty much it!
If you wish to share your own invite link with others you are welcome to do so below. Please, leave a follow up comment once the five referrals limit has been reached so no one needs to waste their time looking for non-working free trials.
Click here to read on new methods for free Grammarly premium.
Anything you want to ask about the use of the free version?
What's your thoughts on Grammarly premium? Share with us online.
Dave Walls
Kind notice from WebHostWhat; some of the posts and guides contain affiliate links which can convert to monetary aid that helps out with server maintenance costs and the author itself. Your support will not cost you anything additional. Big thanks!